Santa Cruz to Sacramento
-

iridethebus.org
Trip overview
Trip parameters

| | |
| --- | --- |
| Total fare | $30.00 |
| Total travel time | 4 to 5 hours |
| Latest departure time | 6:00 PM |
| Latest return time | 5:30 PM |
You can walk lots of places in Sacramento, so the last step is optional and not covered. The Gold Light Rail line and the DASH shuttle (Route 30) both serve Sacramento Amtrak Station.
1st Step: Highway 17 Express to San Jose
Please review the Santa Cruz to San Jose page. When you are finished with that page, use your Web browser's "Back" command to return here.
2nd Step: Capitol Corridor train to Sacramento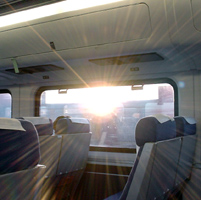 You will use a Capitol Corridor train to get from San Jose to Sacramento. Amtrak California's double-decker cars have comfortable seats and ample storage space. Most cars have electric outlets, and some have wireless Internet. Each car has restrooms and a water fountain. You can bring food or buy from the Cafe Car.
Buying an Amtrak ticket
Agents on the left side of the ticket counter inside San Jose (Diridon) Station sell Amtrak tickets. You must show photo identification for each passenger. You can pay in cash or use a credit card; if you are 62 or older, you can also use a check.
Flexibility is part of the Capitol Corridor experience: you can use your ticket whenever you want. Therefore, there is no harm in getting a round-trip ticket.
You can get on a Capitol Corridor train without a ticket. You must have photo identification. You will pay a penalty if there was a ticket counter or a ticket machine at the station where you got on.
Finding the train
After buying your ticket, check the electronic sign board on the left wall, behind the Amtrak ticket counter. This sign shows departure times and platform numbers. An agent will also make announcements. Now, go down the ramp, find your platform, and go up (or, for Platform 1, just go through the metal gate near the coffee shop). Make sure that your train says Amtrak, and that it's going to Sacramento. Avoid trains marked Caltrain or ACE.
If you plan to use Sacramento Regional Transit, ask for two Capitol Corridor Transit Transfers when the train conductor collects your ticket. Use one for a free ride away from the Sacramento Amtrak Station and one for a free ride back. Transfers are valid for a few days, as indicated.
Preparing to get off in Sacramento
Sacramento is a major stop — and usually the last stop. An agent will announce it.
Selected attractions in Sacramento
Selected attractions in Sacramento

| Who | What | Where |
| --- | --- | --- |
| Downtown Plaza | Shopping mall in the middle of Downtown Sacramento. Mentioned only because it's close to the Amtrak Station and serves as a gateway. | Leave station, turn left, cross parking lot, turn right, cross 5th Street, cross I Street, go forward 1 block. Address: J and 5th Streets |
| Old Town | Authentic, intact Gold Rush-era town | Go to Downtown Plaza. After entering the mall, turn right. Go through mall, down the outdoor path and through the tunnel. |
| State Railroad Museum | Historic trains and memorabilia. Steam train rides in summer. Fun for children, but the exhibits seem to gloss over difficult social and political issues. | Go to Old Town and follow signs. Address: 111 I Street |
| State Capitol | Tours, movie, gift shop. Portraits of past governors. Display cases for state government and every California county — some not updated in decades. Botannical garden. | Go to Downtown Plaza. After entering the mall, turn left. Go through mall and continue on K Street. At 10th Street, turn right and go 2 blocks. Address: Capitol Mall and 10th Street |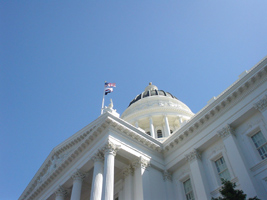 Photo: Our lovely State Capitol. Photo © J. Sampson, 2003.
Returning home
Finding the return train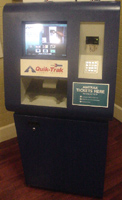 Find your way back to the Sacramento Amtrak Station. If you didn't buy a round-trip ticket earlier, buy your return ticket now. Instead of waiting in line, use the QuikTrak machine, off to the left.
Now, check the electronic sign to the right of the ticket counter. The sign lists departure times and platform numbers. Go out the back door and cross over to the appropriate platform. Sometimes, you must use the tunnel. Make sure that your train is going all the way to San Jose. If in doubt, ask!
Preparing to get off in San Jose
San Jose is the last stop. An agent will announce it.
Planning your trip
For lower fares and less waiting, we recommend that you buy your Amtrak tickets in advance. You don't have to commit to specific dates and times, as Amtrak Capitol Corridor tickets are flexible. You can even include Highway 17 Express tickets in your Amtrak itinerary.
As of July, 2007, an Amtrak QuikTrak machine is available in Downtown Santa Cruz, inside the Pacific Station (Metro Center) lobby. The machine recognizes only a few destinations and does not inform you of the lowest available fares. Therefore, we recommend using the QuikTrak machine only to retrieve tickets. Here's what to do:
Sign up for Amtrak's frequent traveler program. Visit the Amtrak Guest Rewards Web site or call 1 800 307-5000 (nationwide, toll-free).
Find out what discounts you qualify for. AAA, student, veteran and senior discounts — and more — are covered under Hot Deals, on the Amtrak Web site. Some of these discounts even apply to Highway 17 Express tickets included in your Amtrak itinerary.
Buy your tickets on the Amtrak Web site, or book or buy them by calling Amtrak at 1 800 USA-RAIL (nationwide, toll-free). Specify Santa Cruz as your starting point. If the Web site or the telephone agent warns that you will not be able to pick up your tickets in time, change the starting point to San Jose. Give the earliest date that you might travel. If you plan to travel on a major holiday or during the summer, give the exact date, as holiday and summer fares are higher.
On the day you leave Santa Cruz, carry enough cash for the Highway 17 Express, even if you've included Highway 17 Express tickets in your Amtrak itinerary. If something goes wrong with the QuikTrak machine, you can get on the bus in Santa Cruz and retrieve your Amtrak tickets later, at the counter in San Jose.
Retrieve your tickets from the QuikTrak machine. If you used the Amtrak Web site, or if you called Amtrak and chose to buy rather than just book, you have already paid for the tickets and you must insert the same credit or debit card as before. If you called Amtrak and chose to book rather than buy, you can use any credit or debit card, but you must enter the confirmation number you received from the telephone agent. In that case, you will be paying for the tickets when you retrieve them from the machine.
A word of caution: delays are common on Amtrak trains, including the Capitol Corridor. Bring a book, enjoy the scenery, and meet your fellow travelers!
Telephone numbers
The Capitol Corridor can provide information about the entire trip from Santa Cruz to Sacramento. Dial 1 877 9-RIDE-CC (nationwide, toll-free). For Sacramento Regional Transit, dial 511 (Sacramento area, toll-free) or 1 916 321-BUSS.
Know before you go
The information on this Web page might be incomplete, out of date, or incorrect. Also, there is always a risk of delays and missed connections.
© 2001-2008, Paul Marcelin. This Web site is a public service, not affiliated with any transportation provider.